DR. BEMBEY
---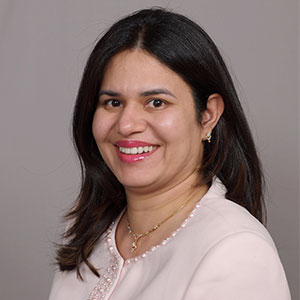 Kanika Bembey, B.D.S, D.D.S., M.S.D.
Dr. Kanika Bembey has strong aspirations to grow and develop in the fields of dentistry and periodontics. Dr. Bembey grew up in India, where she completed her Bachelors in dentistry and practiced as a general dentist for 3 years. Upon her arrival in the US, she completed her dental training at UCLA School of dentistry, where she received multiple awards including, Clinical excellence in the field of Periodontics and Excellence in Comprehensive dental care.  She went on to finish specialty training in Periodontics and dental Implants at NSU school of dental medicine, Florida, where she received a certificate in periodontics and in addition to Masters in Science in Dentistry.
Dr. Bembey is proficiently trained in all aspects of dentistry including non-surgical and surgical periodontal therapy. She is extensively trained in procedures of periodontal bone regeneration, soft and hard tissue grafting including sinus grafting and placement of dental implants. Dr. Bembey is very enthusiastic and committed to comprehensive dental treatment and care tailored to each patients. She focuses on patient overall health and empower patient to elevate their oral health by education and optimal periodontal care.  She strives to provide her patients with best treatment options available and believes in working as a team with the restorative dentist.
She is a member of many dental and periodontal organizations, including American Dental Association, American Academy of Periodontology, Academy of Osteointegration and California Society of Periodontist.
Dr. Bembey grew up in an Indian Army family and travelled a lot during her childhood. Thats when the traveling bug bit her and now her goal is to travel to all the New seven wonders of the world. She has visited three and plan to travel to the rest soon. When not practicing dentistry she enjoys playing badminton, hiking, cooking and baking. She loves cooking food for her family and loved ones. During her high school days she played several badminton tournaments at state level in India.
 HOME